Episode #6
Due to the kindness and generosity of one saintly administrator, Matthew manages to land a part as an extra on a TV show filmed in Bend featuring Jennifer Love Hewitt. This leads to a star-crossed moment that Matthew will never forget.
SHOW NOTES
The mother of Jacob Loyst (the little boy in the show that Matthew was an extra on) is asking for people to comment on this YouTube video if you want her to post all 13 episodes from the VHS tapes she has in storage! FOR REAL THOUGH DO IT—let's see High School Matthew as an extra!
Also, Zack from Saved By The Bell is played by Mark-Paul Gosselaar. According to his IMDb page, he's still friends with Mario Lopez to this day.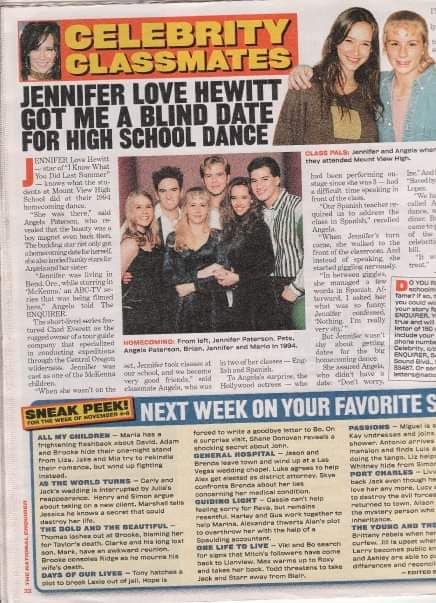 In case you thought this story was probably full of shit…
Jennifer Love Hewitt—star of "I Know What You Did Last Summer"—knows what the students at Mount View High School did at their 1994 homecoming dance.
"She was there," said Angela Paterson, who revealed that the beauty was a boy magnet even back then. The budding star not only got a homecoming date for herself, she also landed hunky stars for Angela and her sister.
"Jennifer was living in Bend, Ore., while starring in 'McKenna,' an ABC-TV series that was being filmed here," Angela told The ENQUIRER.
The short-lived series featured Chad Everett as the rugged owner of a tour guide company that specialized in conducting expeditions through the Central Oregon wilderness. Jennifer was cast as one of the McKenna children.
"When she wasn't on the set, Jennifer took classes at our school, and we became very good friends," said classmate Angela, who was in two of her classes—English and Spanish.
To Angela's surprise, the Hollywood actress—who had been performing on-stage since she was 8—had a difficult time speaking in front of the class.
"Our Spanish Teacher required us to address the class in Spanish," recalled Angela.
"When Jennifer's turn came, she walked to the front of the classroom, and instead of speaking, she started giggling nervously.
"In between giggles, she managed a few words in Spanish. Afterward, I asked her what was so funny. Jennifer confessed, "Nothing, I'm really very shy."
But Jennifer wasn't shy about getting dates for the big homecoming dance.
She assured Angela, who didn't have a date: "Don't worry, I'll get the guys."
And that's exactly what she did.
"Jennifer came to the dance with a surfer hunk named Pete.
"And she set me and my sister up with blind dates, too," her classmate revealed.
Angela's date was "Port Charles" star Brian Gaskill, who was then appearing in the "Melrose Place" spin-off "Models Inc." And her sister's date was "Saved by the Bell" star Mario Lopez.
"We had a lot of fun," recalled Angela. "After the dance, we went to a local diner. But when the time came to pay the check, none of the rich celebrities reached for the bill.
"It was strictly Dutch treat."